CEREC 1-Visit Crowns
While no one wants to hear that they need a crown, we have some good news for you. With today's advanced technology, it's possible for us to design, mill, and place a completely customized crown in just one visit.
Compare this with the experience you might have with a traditional crown. Restoring a tooth with a traditional crown typically takes two visits—sometimes three if you have any problems with your temporary crown. Finding the time for these appointments requires adjustments to your schedule, and then there's the inconvenience of wearing a temporary crown that could break or fall out at any time. At Silver Creek Dentistry, you can have your entire procedure completed in one appointment with no need for a temporary or a return visit.
What to Expect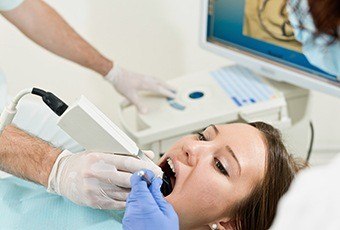 On the day of your appointment, we'll scan your tooth and make a detailed design for your crown. Then, we'll send that information to our CEREC machine, which will start milling your restoration while you rest comfortably in our office. When your crown is ready, we'll make sure it fits properly and blends in with the rest of your smile before securing it in place. Once your crown is attached, you can leave our office with a stronger, healthier smile that you'll be eager to share with others.
Do you want to learn more about restoring a decayed or damaged tooth with a same-day crown? Call Silver Creek Dentistry to schedule a visit with us. Our entire team is dedicated to offering restorative dental care for the people of Ripon, Markesan, Green Lake, Oshkosh, Berlin, Omro, Winneconne, Fond du Lac, Wautoma, Waupun, and beyond.