Periodontal Therapy – Ripon, WI
Save Your Smile with Gum Disease Therapy
Gum disease, also known as periodontal disease, is a serious infection that affects roughly 50% to 80% of U.S. adults. It is responsible for an array of symptoms, like bleeding and inflamed gums, persistent bad breath, and even tooth loss. It also increases the risk of certain health problems, like heart disease, stroke, diabetes, Alzheimer's disease, and pre-term birth. To protect your mouth and body from the complications of gum disease, we offer the solutions you need with periodontal therapy in Ripon.
Deep Cleaning
At Silver Creek Dentistry, we create a fully customized treatment plan to help manage your symptoms to enjoy better oral health. Your plan may include more frequent cleanings and more vigilant brushing and flossing. We may also recommend a more advanced procedure called a deep cleaning. Also known as scaling and root planing, we remove plaque and calculus from below the gum line to eliminate the bacteria that can lead to bone and tooth loss.
Soft Tissue Laser
In the past, the deep cleaning procedure was rather invasive. It required a scalpel and stitches. Today, new advancements in modern dentistry make the treatment less invasive and more effective. With the use of a soft tissue laser, you enjoy more precise and efficient results to quickly restore your gum health.
The laser allows us to pinpoint the treatment areas to reduce any damage to healthy tissue. It cauterizes and sterilizes while it cuts, decreasing the risk of infection and bleeding. This promotes the recovery process to help generate new, healthy tissue.
Perio Protect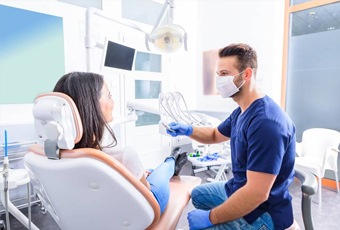 The Perio Protect Method is an innovative system that provides treatment to areas that cannot be reached with a toothbrush or floss. Customized trays deliver medication to the pockets that have formed in your gum tissue where bacteria thrive.
By wearing the medicated trays for a few minutes each day, it cleans below the gum line using a low concentration of hydrogen peroxide. This thoroughly cleanses the pockets to stop bacteria while also whitening your teeth and freshening your breath.
The non-invasive treatment is used in combination with other periodontal therapy solutions to achieve maximum results to keep your smile healthy.
Schedule an Appointment Today!
If you are experiencing any of the symptoms of gum disease, do not wait until it is too late. Contact our office today to schedule an appointment right away. We create the individualized solution you need to restore your gum health. The sooner you begin treatment, the better the results are for your smile.