Dental Implants – Ripon, WI
The Best Way We Replace Your Missing Teeth
If you're looking for a way to replace one or more missing teeth, let us talk to you about dental implants. We can use this versatile service to restore a single tooth, a couple of teeth, or a full arch. The results will look and feel more natural than those you can expect from a traditional bridge or denture. That's because implants have a structure that mimics the crown-and-root structure of a natural tooth. The implant portion provides added stability and support while preserving and even strengthening a patient's jawbone. Contact us today for a consultation to see if you are a candidate for dental implants in Ripon.
Benefits of Dental Implants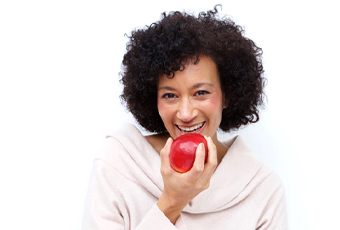 What makes dental implants so innovative is the fact that they are surgically placed into the jawbone. Because they replace the tooth's root as well as the crown, your new teeth will be much stronger, more stable, and longer lasting than alternative solutions. You won't have to worry about them slipping out of place like a traditional denture would. Therefore, you can enjoy all of your favorite crunchy or chewy foods.
Dental implants also stimulate the jawbone, something that no other treatment offers. After tooth loss, the jawbone normally begins to deteriorate due to the tooth's roots no longer stimulating it through chewing. The implant posts strengthen the bone, helping you maintain a youthful appearance.
Additionally, dental implants last several times longer than conventional bridges or dentures. With the right aftercare, your new teeth can last for several decades or even a lifetime!
Indications for Dental Implants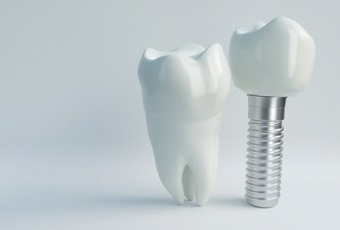 No matter how many teeth you need replaced, your implant dentist in Ripon can use this solution to rebuild your smile. After a consultation, we can go over all of your restorative options, such as:
Missing Single Tooth
Traditionally, a bridge would be used to replace one lost tooth, but it requires health enamel to be removed from the adjacent teeth. Instead, we can place a single implant post in the gap with a customized dental crown on top.
Missing Multiple Teeth
If you're missing a few teeth throughout your mouth, we can use implants to secure a bridge or partial denture. For patients with several missing teeth in a row, just two implants are all that is needed to hold a natural-looking bridge in place.
Missing All Teeth
Even if you have no natural teeth remaining, we can still rebuild your smile with dental implants. Rather than replacing each individual tooth, we only need four to six implant posts to anchor a full denture. With this option, you won't have to worry about difficulties eating or speaking due to annoying slippage.
Start-to-Finish Dental Implant Treatment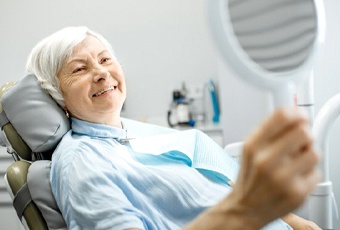 Because the first phase of treatment involves surgery, some dentists have to refer their patients to a specialist. But at Silver Creek Dentistry, we're proud to offer start-to-finish dental implant treatment. Instead of visiting an unfamiliar office to have your implant(s) placed, you can receive the help you need from the friendly team you already know and trust.
Understanding the Cost of Dental Implants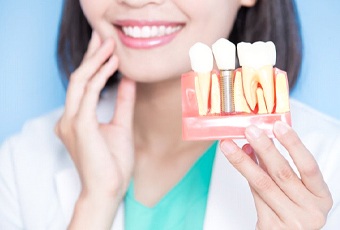 Every dental implant treatment is 100% personalized, so the cost can vary greatly from patient to patient. Numerous factors can affect the final price, such as the number of implants you need, the type of restoration you're receiving, and whether you require any preparatory work. Before we begin your treatment, we'll go over all of this information so you have a clear idea of how much you can expect to pay.
While dental implants initially cost more than other options, we believe they are a worthwhile investment. In addition to offering unparalleled aesthetics and stability, they also last exponentially longer. Traditional bridges and dentures often break down after a decade at most, while dental implants can easily last for 30+ years, saving you a great deal of money (and time) in retreatments.
If you're interested in learning more about dental implants, Dr. Hamman and Dr. Walejko would be happy to talk with you about your treatment options. Call Silver Creek Dentistry to schedule a consultation appointment. Our team is proud to provide full-service implant care to patients from Markesan, Winneconne, Omro, Oshkosh, Princeton, Green Lake, Berlin, and beyond.
Dental Implant FAQs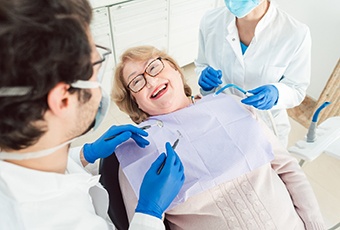 From the benefits to the cost, you may want to know a bit more about dental implants in Ripon! You may have a few questions on your mind, and we want to make finding the answers as seamless as possible. Since many of our patients prefer to do their research online, we've responded to some of the most frequently asked questions here. If you would prefer to speak directly with our team or are having trouble finding the answer you are looking for, don't hesitate to get in touch!
How Long Do Dental Implants Last?
One of the major advantages of opting for dental implants over other tooth-replacement options is that they can last 30+ years – if you care for them properly. Fortunately, that task isn't too cumbersome since the integrity of their structure can be maintained with the same healthy habits you use to care for your natural teeth. Therefore, make sure to brush your teeth twice a day, floss daily, and schedule a dental checkup and cleaning at least every six months. You should also avoid smoking, using your teeth as tools, chewing on ice, and other teeth-damaging behaviors that can compromise the look and function of your smile.
Does Getting Dental Implants Hurt?
One of the biggest reservations patients have about dental implants, or any dental work for that matter, is that the procedure will be painful. If this is what is preventing you from committing, you'll be happy to know that the procedure doesn't begin until your mouth has been thoroughly numbed with a local anesthetic. Sedation dentistry is also available to help patients with dental-related anxiety and assist with providing an easy and relaxing appointment. To ensure you remain comfortable even after you leave our treatment chair, we will provide you with an extensive list of aftercare instructions, like using a cold compress and taking OTC medication as directed.
Is There Anything I Shouldn't Eat with Dental Implants?
Thanks to their high-quality materials and durable structure, dental implants don't come with a long list of dietary restrictions like other tooth-replacement options do. However, you should stick to soft foods, avoid alcohol, and stay away from acidic beverages in the first couple of weeks following your surgery. Once you recover fully and a crown is placed on your implant, you'll be able to test out your new and improved bite on all your favorite foods. Just make sure to avoid items that can damage your dental implants and natural teeth alike, like ice and hard nuts.
What Should I Do If I Can't Afford Dental Implants?
As mentioned above, the initial cost of dental implants is higher than other restorative services, which makes them an investment. To ensure cost isn't what stands in your way of replacing one or more missing teeth with this state-of-the-art solution, our team offers a number of financial options. Simply put, from periodic special offers to flexible financing through CareCredit, our dentist in Ripon will go the extra mile to find an option that benefits your smile and your wallet.