Dental Implants
How We Replace Your Missing Teeth
If you're looking for a service that will help you replace one or more missing teeth, let us talk to you about dental implants. We can use this versatile service to restore just a single tooth, a couple of teeth, or a full arch. The results will look and feel more natural than those you can expect from a traditional bridge or denture. That's because implants have a structure that mimics the crown-and-root structure of a natural tooth. The implant portion provides added stability and support while preserving and even strengthening a patient's jawbone. Contact us today for an evaluation to see if you are a candidate for same day dental implants!
Dental Implant Placement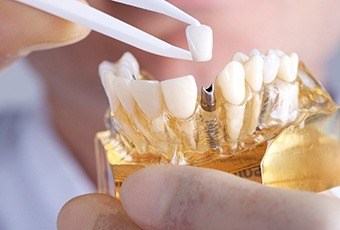 A full implant procedure is completed in two phases. First, your dentist will place one or more implants into your jaw. Made of durable titanium, your implant(s) will fuse with your jawbone over time, creating a strong bond that mimics the bond between the jaw and a natural root. After a healing period, you'll return for the second phase of treatment, during which your new restoration will be attached to complete your procedure.
Because the first phase of treatment involves surgery, some dentists have to refer their patients to a specialist. But at Silver Creek Dentistry, we're proud to offer complete implant care. Instead of visiting another office to have your implant(s) placed, you can receive the help you need from the team you already trust.
Same Day Dental Implants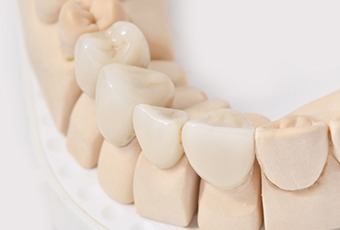 Same day dental implants may also be referred to as immediate load dental Implants, and sometimes allow placement of a temporary tooth. In some cases an implant may be placed into an extraction site immediately after the extraction is completed. After about four to six months, a permanent replacement is completed. This procedure works best when there is enough strong bone to support the implant. Same day implant placement is not viable for all cases. If you would like to find out if you are a candidate for Same Day Dental Implants, the best thing to do is talk with an experienced implant dentist about your options.
Implant-Retained Crowns & Bridges
If you are missing a single tooth, an implant-retained crown is how we can replace it. For this, after you have healed from your placement procedure, we will attach a metal or tooth-colored support called an abutment to the implant root. This will resemble a tiny screw, and it will show above your gum-line. An all-porcelain dental crown will be placed on top of this to give you a durable and natural-looking result.
Implant-retained crowns can also be used to replace a row of consecutive missing teeth by forming an implant-retained bridge. With this, two implant-retained crowns are placed on either side of the gap in a patient's smile, and these are bonded to prosthetic teeth to fill in the space. Compared to a traditional bridge, implant-retained bridges look more natural, last longer, and don't require healthy teeth to be filed down in order to hold the supporting crowns, better preserving your smile's strength.
Implant-Retained Dentures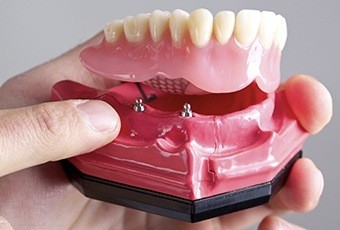 Dental implants are quite versatile and can actually be used to support a partial or full denture. If you're sick of your unreliable, uncomfortable denture, this treatment is for you! Rather than relying on small metal clasps or natural suction, implant-retained dentures are anchored to your jaw just like your natural teeth. This gives them a number of advantages over traditional dentures:
Security: Thanks to the strength of dental implants, your dentures will never slip, slide, pop, or click unexpectedly.
Longevity: Traditional dentures often lose their fit because they allow the gums and jaw to atrophy and change shape. Dental implants can prevent and even reserve this process, assuring that your dentures will maintain their comfortable fit for much longer.
Enhanced Function: Implant-retained dentures give a patient a bite force much more similar to natural teeth. This enables them to eat a wider variety of foods with ease, including nutrient rich ones that traditional denture wearers typically have to avoid (such as raw vegetables and cooked meats).
Mini-Dental Implants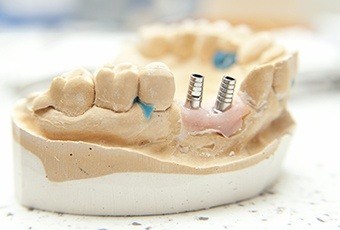 Mini-dental implants, as the name implies, are a smaller version of traditional implant roots. These are ideal for patients who may not have enough healthy, strong jawbone to support regular implants. They can be used to hold a denture in place, and thanks to their size, they can often be placed and restored in just one appointment. Thanks to mini-implants, now even more people can benefit from the best tooth replacement solution available today.
Would you like to know if dental implants are right for you? Many patients are perfect candidates for treatment—but not everyone. If they aren't, we also offer custom-made removable prosthetics.
If you're interested in learning more about dental implants, Dr. Johnson, Dr. Hamman, and Dr. Walejko would be happy to talk with you about your treatment options. Call Silver Creek Dentistry to schedule a consultation appointment. Our team is proud to provide full-service implant care to patients from Markesan, Winneconne, Omro, Oshkosh, Princeton, Green Lake, Berlin, and beyond.