Dentures – Ripon, WI
Restore Your Smile, Bite, and Speech
Tooth loss is one of the most rampant dental health issues facing Americans. In fact, the American College of Prosthodontics shared that about 178 million adults in the US are missing at least one tooth. The good news is that the gaps in your smile don't have to be permanent – modern dentures in Ripon can restore your smile, bite, and speech! Keep reading to learn all about this tried-and-true tooth-replacement solution or contact our team.
Who Is a Good Candidate for Dentures?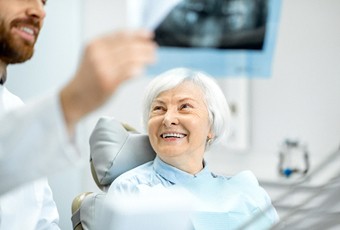 Are you struggling with moderate to severe tooth loss? Then chances are you're a candidate for dentures. While dental implants and bridges can replace one missing tooth, dentures can replace several missing teeth or an entire arch! Each restoration is custom-made just for you, ensuring your new and improved smile will both look incredible and feel natural.
The Types of Dentures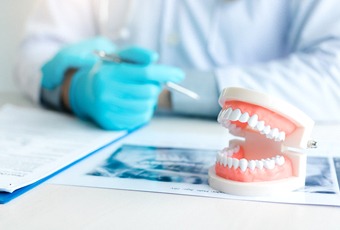 Depending on your dental needs, our Ripon dentist will recommend one of the following types of dentures:
Partial Dentures
As the name suggests, partial dentures are designed to help patients with partial tooth loss. In short, this restoration acts as a puzzle piece, filling in the gaps in your smile while leaving room for your natural teeth. The result? A seamless smile that allows you to chew thoroughly and speak clearly.
Full Dentures
Full dentures, on the other hand, are ideal for patients who are missing all of their teeth. Denture adhesive, natural suction, or a mixture of the two hold the restoration securely in place, allowing you to go about your daily activities with ease. Like partial dentures, they are removable, allowing you to thoroughly clean them each evening.
Implant Dentures
Implant dentures marry traditional braces and state-of-the-art dental implants. In this case, the restoration doesn't rest against your gums; it's held in place with several strategically placed implants. Not only does this provide you with unmatched stability, but it also preserves your jawbone and can last for 20+ years with proper care.
The Benefits of Dentures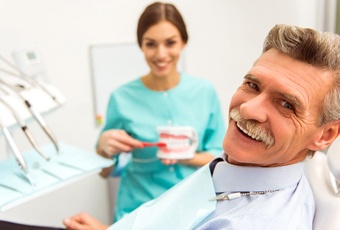 There is a reason dentures are one of the most popular restorative dentistry treatments. In fact, there are several benefits to consider as a patient. Here are a few:
Dentures have a lower upfront cost.
Dentures can restore your smile, bite, and speech.
Dentures are completely customized for each patient.
Dentures can last for over a decade with proper care.
Dentures can be easily cleaned.