Invisalign® - Ripon, WI
Your Clear Path to a Straighter Smile
If you wish you had a straighter smile, our team at Silver Creek Dentistry can help. We offer a service known as Invisalign that can improve the alignment of your smile without the metal brackets and wires of traditional braces. This revolutionary tool uses clear acrylic trays to move the teeth into their ideal position. As a result, patients can enjoy more discreet care with Invisalign in Ripon.
How Does Invisalign Work?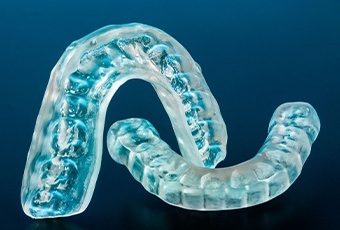 Once you have been declared a qualified candidate for Invisalign, our team will take digital images of your smile using the iTero scanner, which eliminates the need for messy, cold dental putty to capture impressions. These images will be used to show you a step-by-step preview of your new smile before treatment, but they will also serve as a blueprint for dental lab technicians to create your customized aligners.
Once we receive your trays, you will return to retrieve them and be fitted with your first set. We will provide you with detailed instructions regarding how long to wear each set before switching to the next in the series. It is important that you wear your aligners for at least 20-22 hours each day. Every two weeks, you will swap out your trays for the next set, in which you might feel some minor discomfort due to your teeth gradually shifting in the right direction.
At the end of your treatment, you will notice a more beautiful, healthier smile that is properly aligned. It will be necessary for you to wear a retainer once you are finished with Invisalign. This will prevent your teeth from moving out of alignment and back into their original position.
Indications for Invisalign
If you suffer from overcrowding, gapped teeth, or even a serious overbite, Invisalign is effective at treating all of these issues.
Crowded Teeth
If your teeth are sitting too close together, this can create problems for your smile. When space is limited and your teeth begin to push through the gums, this can cause your already erupted teeth to shift. Additionally, it makes it virtually impossible to brush and floss effectively because of how close your teeth are in proximity to each other. Using Invisalign, the clear aligners can reposition your teeth over time to create the necessary space and bring your smile into proper alignment.
Spaces Between Teeth
When your teeth are out of alignment, spacing issues can create periodontal disease, which left untreated, can lead to tooth loss. By receiving treatment with Invisalign, your orthodontist in Ripon can map out your smile sequence in a way that will have your teeth moving closer together, eliminating unnecessary gaps and improving your oral health.
Bite Alignment
If it's not overcrowding or gaps in your smile that have you looking for an effective treatment, it might be that you have an overbite, underbite, crossbite, or even an open bite. Fortunately, Invisalign can help fix these orthodontic problems, too. The aligners will work to shift your teeth in the right direction, no matter what type of bite problem you have.
What Are the Benefits of Invisalign?
Most patients opt for Invisalign because of its discreet and subtle ability to treat common orthodontic issues, but there are many other benefits to this innovative and truly unique method of treatment, including:
No food restrictions, as you are instructed to remove your aligners prior to eating or drinking
Easy to clean using a toothbrush, clear soap, and lukewarm water
Improved appearance and increased confidence
Faster results than with traditional, metal braces
No irritation to your cheeks, lips, or gums because there are no metal wires or brackets
Cost of Invisalign
When scheduling your consultation with Silver Creek Dentistry, our team will provide a clear explanation of the Invisalign process as well as how much your treatment will cost. No patient is the same, so there's no set price associated with this type of treatment. Various factors are considered when determining the overall cost, including:
The number of aligners you will need throughout treatment
Your retainer
Whether you need any teeth extracted prior to receiving Invisalign
Your age and commitment to wearing your Invisalign trays for the instructed amount of time
If you will require extra aligners
If you are unsure whether your dental insurance will cover any or all portions of your treatment, it is best if you review your policy or have a member of our dental team contact them on your behalf.
Schedule Your Appointment
If you're curious about this remarkable service, schedule a consultation today. During your appointment, you can discuss your needs and we can go over treatment options. We're happy to offer orthodontic care to patients from Ripon, Markesan, Green Lake, Princeton, Oshkosh, Berlin, Omro, Winneconne, Fond du Lac, Wautoma, Waupun, and all surrounding areas.