Dental Crowns & Bridges
Building Blocks of a New Smile
If you have a damaged, decayed, or missing tooth, you may benefit from either a crown or bridge. These special restorative treatments are designed to help patients strengthen a vulnerable smile and restore their oral health at the same time. To establish which is right for you, we'll complete a thorough oral health assessment and talk with you about the results. A crown is perfect for patients who want to save a hurting tooth while a bridge is used to fill the space where a tooth has been removed or fallen out.
Same-Day Porcelain Crowns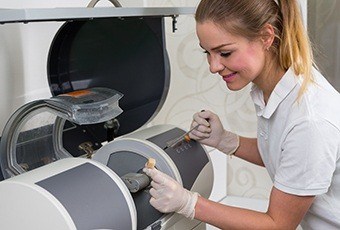 Using our office's CEREC machine, we can design and mill a custom-made crown for you in just one visit. Your crown will be placed over your decayed or damaged tooth to restore its strength and protect it from more extensive damage. Your porcelain crown will also improve your tooth's appearance and preserve the overall alignment of your smile. With proper care, you can look forward to enjoying your results for years to come.
Dental Bridges
A bridge consists of a replacement tooth (known as a pontic) plus two neighboring crowns. These crowns are placed over healthy teeth to provide your restoration with stability. Why is filling the gap in your smile so important? Because it only takes one missing tooth to change your smile's alignment. Nearby teeth will shift out of place over time, marring your smile and even making you more susceptible to gum disease and other jaw problems. A bridge will protect your smile's alignment and safeguard your health and well-being.