Implant Dentures – Ripon, WI
Reliable and Long-Lasting Full Arch Tooth Replacement
If you have lost all or most of your teeth, you may be all too familiar with the challenges of an incomplete smile. Not only does tooth loss make it hard to eat a nutritious diet, but you might also be embarrassed to smile in social situations. Traditional dentures can help with such issues, but only to an extent. Are you looking for a better solution? We often recommend implant dentures in Ripon as the best way to replace an entire arch of lost teeth. Contact us today to schedule your restorative consultation.
Why Choose Silver Creek Dentistry for Implant Dentures?
Friendly and Professional Team
Start to Finish Dental Implant Care
Natural-Looking, Long-Lasting Results
What Are Implant Dentures?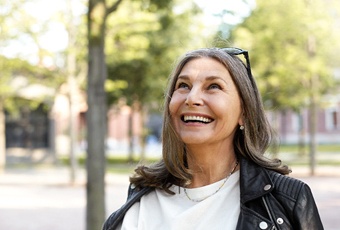 Traditional dentures are held in the mouth via mild adhesive or natural suction. Implant dentures are different. They are secured via prosthetic tooth roots (dental implants) that we surgically insert beneath the gumline. They therefore last much longer and provide a stronger bite force than their traditional counterparts.
Depending on your situation, your implant dentist in Ripon might determine that one of the following types of implant dentures is right for you:
Fixed/Permanent Implant Dentures
As their name implies, these are permanently attached to the implants that support them. Fixed implant dentures can only be removed during appointments with a dental professional. In most cases, it takes approximately 4 – 6 implants to support this type of prosthetic.
Removable Implant Dentures
Removable implant dentures, also called overdentures or implant-retained dentures, are easy for patients to remove on their own. They usually require just a few dental implants (perhaps two or three) to support them. In rare cases, a patient's existing traditional denture can be adapted to work as an overdenture.
The Implant Denture Procedure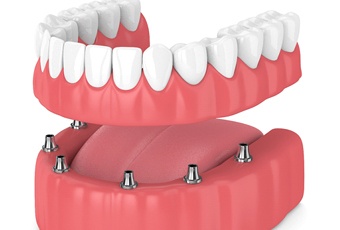 Here is an overview of how the procedure usually works:
You begin by attending a consultation, during which we will get to know you and start planning your treatment.
After any necessary preparatory treatments, we will surgically place the implants in your jawbone.
After you have healed sufficiently from your surgery, attachments will be placed on top of your implants. These will serve to keep your new teeth in place.
You will receive a functional and beautiful implant denture.
From start to finish, the implant denture process typically takes at least several months, but the investment of time is well worth it!
Am I a Candidate for Implant Dentures?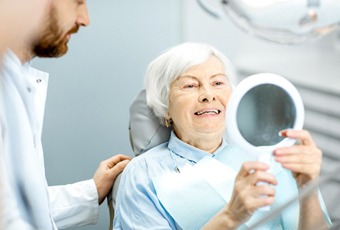 The best way to find out if you are a candidate is to attend a consultation. Some traits that many candidates have in common include:
Fair overall health
Fair oral health (you should be free of active gum disease)
A desire to upgrade from traditional dentures
Adequate jawbone volume and density to support dental implants in Ripon
Excellent oral hygiene habits
Benefits of Combining Dentures & Dental Implants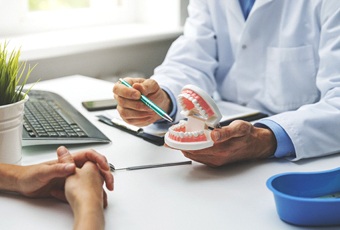 Some of the most remarkable benefits of implant dentures include:
They provide a bite force that is superior to traditional dentures.
Dental implants stimulate the jaw and prevent the bone loss that normally occurs after tooth loss.
Implant dentures look so natural that onlookers may not be able to tell that you have them.
With proper care, your dental implants may last for a lifetime. The denture on top of them is also likely to stand the test of time.