Sedation Dentistry
Completing More Work in a Single Visit
Another tool at our disposal is sedation dentistry. With the calming effects of sedation dentistry, we can help anxious patients complete more work in a single visit. Even patients who don't struggle with anxiety can benefit from using sedation dentistry during their procedure. If you'd like to learn more about this popular and effective service, we'd love to talk to you about it.
Receive the Dental Treatment You Need Without Pain or Fear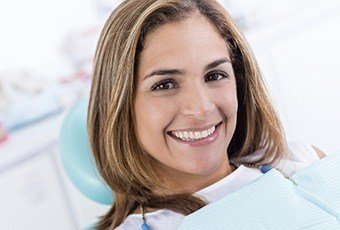 At Silver Creek Dentistry, our goal is your optimal oral health. With this in mind, we offer three types of sedation dentistry to help people with dental phobias and anxieties get the treatments they may have been avoiding for many years. The sedation options we offer include nitrous oxide—otherwise known as laughing gas—oral conscious sedation, and IV sedation. The type of sedation we use depends on each individual patient's needs.
Oral Conscious Sedation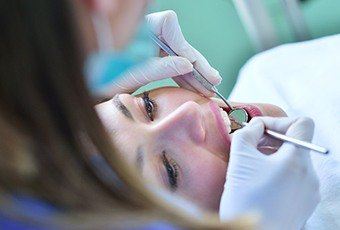 With oral conscious sedation, your doctor will prescribe a mild sedative pill that you will take about one hour before your scheduled appointment. By the time you arrive at our office, the medication will have taken effect and you will likely feel ready to sleep through your visit. However, you won't actually be asleep. You'll still be able to answer our questions when we speak to you, but you probably won't be able to remember any part of your treatment. With oral conscious sedation, we can complete a number of procedures in one visit. Patients will need a driver to and from our office as well as someone to be with them for several hours after their appointment for safety reasons.
Nitrous Oxide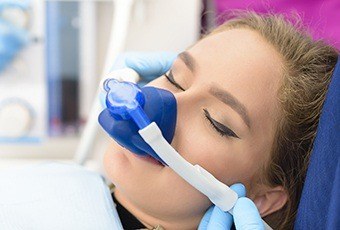 The sedation we use most often at Silver Creek Dentistry is nitrous oxide. A measured amount of this gas is combined with oxygen and administered through a nose mask that you wear during your dental procedure. As you begin to inhale, you will quickly feel your body relax and your worries melt away. While you're comfortable, we can complete your treatment. Nitrous oxide is considered safe and effective, but of course we will monitor you carefully the entire time. Once the mask is removed, the effects of the gas wear off quickly and you will likely be able to return to your daily activities, including driving.
IV Sedation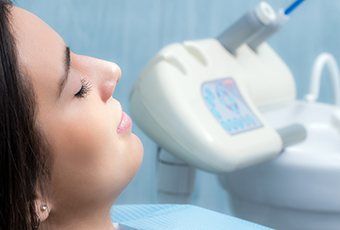 With IV sedation dentistry, medication is delivered intravenously during dental treatment. The type of IV sedation we use is not like that used for general anesthesia. Rather, ours is a drug that induces "twilight sleep." You will remain conscious and able to respond to your dentist during treatment. And although you're not actually asleep, you may "wake up" after your procedure and not be able to recall what has happened.
Once IV sedation has been administered, we can safely take care of your oral health. The anti-anxiety medication is not a painkiller, however, so a local anesthetic may be necessary depending on the type of procedure you require. The anesthetic will be given once you are completely relaxed, so chances are you will be unaware of it. Then, Dr. James Hamman or Dr. Kurt Walejko and their team will wait until the local anesthetic has taken effect before beginning your dental treatment. Both, Dr. Hamman and Dr. Walejko are certified by the American Dental Society of Anesthesiology, so you will be in good hands. Patients will need a driver to and from their appointment and someone to be with them for several hours after their appointment for safety reasons.
The Sedation Dentist You Can Relax With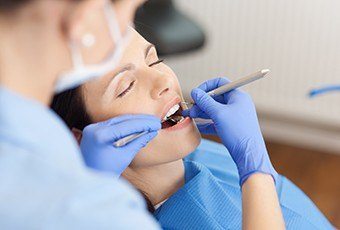 Regardless of your level of anxiety or fear of seeing the dentist, we have the sedation dentistry that is right for you. Sedation dentistry is also appropriate for patients who have a touchy gag reflex, sensitive teeth, or who have difficulty remaining comfortable in the dentist's chair because of physical limitations.
And whether you have nitrous oxide, oral conscious sedation, or IV sedation, rest assured that your safety is of the utmost importance to us. We carefully monitor sedated patients from start to finish of a dental procedure. And fortunately, we can perform almost any procedure while you're sedated—from a routine dental check-up to a more complex restorative treatment.
If you have been avoiding much needed dental treatment, we can help you overcome your fears. Call Silver Creek Dentistry to schedule your next appointment. Our entire team is dedicated to offering sedation dentistry to the people of Ripon, Markesan, Green Lake, Princeton, Oshkosh, Berlin, Omro, Winneconne, Fond du Lac, Wautoma, Waupun, and beyond.