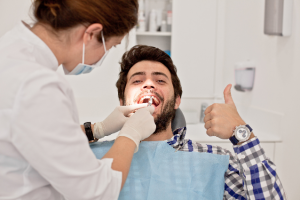 To maintain a healthy smile, it requires more than just brushing and flossing. You also need to visit your dentist twice a year for a cleaning and checkup. Unfortunately, the Centers for Disease Control and Prevention reports only 64% of adults saw their dentist last year. Despite 77% of Americans now having dental insurance, many still avoid scheduling appointments because they are concerned about the cost. By understanding how your insurance policy works, you can visit your Delta Dental dentist twice a year for little to no out-of-pocket expense.

Maximize Your Dental Coverage
Dental coverage works a little bit differently than your medical insurance. It is designed to prevent issues from developing in the first place, like tooth decay and gum disease. By keeping your smile healthy, it helps to reduce the need for invasive or costly procedures in the future. To reduce your long-term cost for care, most insurance policies offer preventive care for little to no out-of-pocket cost. You can get the semi-annual cleanings and checkups that you need without having to worry about an unexpected bill.
Even with the best preventive measures in place, damage can still occur. To quickly rehabilitate your oral health, your dental policy offers an annual allowance. After paying your deductible, your insurance will pay as much as 80% of treatments that are needed to restore your oral health, like root canals, tooth extractions, or dentures.
Depending on your specific policy, your coverage may also cover a portion of elective procedures, like orthodontics, teeth whitening, or dental implants.
Benefit from Affordable Care
To make the most of your insurance policy, it is often recommended that you choose a dentist in Ripon who is in-network. This means that the dentist has pre-negotiated rates with your insurance company to lower the cost of services. While it is often best to choose an in-network dentist, you still have the freedom to choose one who is not. When using one that is out-of-network, you will have to pay the difference between the dentist's fees and your insurance's allowable amount for services.
When visiting your dentist, they will help you understand your dental policy to make the most of your coverage. In addition, they will work on your behalf with your insurance company to file the necessary claims and paperwork to keep your cost of care within your budget.
Get a Healthy Smile Today!
Every month, you pay premiums for your dental coverage, so why not use it? If you have not been to your dentist recently, now is the time to schedule an appointment.
About Silver Creek Dentistry
Silver Creek Dentistry strives to provide comprehensive dental care that accommodates our patients' budgets. Although it is recommended that you see your dentist twice a year for a cleaning and checkup, many of our periodontal patients need an appointment every 3 to 4 months. As an in-network dentist, we will help you maximize the value of your policy. Most insurances cover 80% of these visits. We also work with patients who are out-of-network or uninsured. If you do not have dental insurance, we offer a Dental Savings Plan to help you get the care you need. If you have any questions about your insurance, contact our office today to speak with a member of our team.