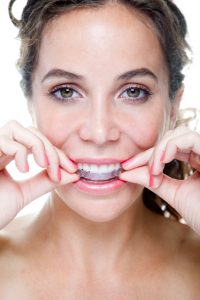 Living with crooked teeth definitely has an affect on your daily life. When you're embarrassed about the appearance of your smile it's always on your mind and it takes a toll on your self-confidence. For example, you may hold back from smiling when you meet new clients, which affects your professional relationships and your job. Maybe you've considered straightening your teeth, but have been put off by the thought of wearing bulky metal braces. What if there was a way to straighten your teeth quickly and discreetly? Invisalign may just be the solution you've been looking for. Here's more information about the benefits of Invisalign near Oshkosh.
What is Invisalign?
Instead of using traditional metal brackets and wires to straighten your teeth, Invisalign uses clear acrylic aligners that gently apply pressure and gradually straighten your teeth over time. Your aligners should be worn 20-22 hours per day and changed out every two weeks. With excellent patient compliance, most Invisalign cases take around 12-18 months to complete.
What are the Benefits of Invisalign?
Patients truly appreciate the discreet manner in which Invisalign straightens teeth. Because your aligners are clear, they are virtually invisible, making it easy to talk and smile. With Invisalign, no one will ever notice that you're straightening your smile!
Aligners are removable, which makes it easy to eat the foods you normally enjoy with no restrictions. You'll also be able to remove them for brushing and flossing so you're home care routine won't suffer during treatment. They can even be removed for the occasional big event or meeting, however for the best results, you'll want to wear your aligners as many hours per day as possible.
The doctors at Silver Creek Dentistry use 3D imaging to create your Invisalign treatment plan, and through this technology you'll be able to see what your newly aligned smile will look like before treatment even starts. Invisalign is discreet, easy to work with, and the result is a smile that you'll be proud to share!
Am I a Candidate For Invisalign?
If you're considering straightening your teeth with Invisalign, the first place to start is a visit with your dental provider. At Silver Creek Dentistry, our doctors are Invisalign providers and they let you know if Invisalign is right for you through a consultation, in which they'll take photos, x-rays and perform a thorough examination of your teeth and bite. If Invisalign is not in your future, Dr. Johnson and Dr. Hamman can discuss other options that may work well for you.
If crooked or misaligned teeth have been affecting your confidence, contact our office today to learn how we can help restore your smile.