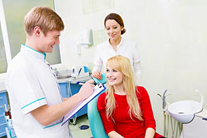 Let's face it, it can be a bit scary visiting a new dentist or orthodontist in Ripon. At Silver Creek Dentistry, we understand that you may be a little apprehensive about your upcoming appointment; however, we do not want you to feel concerned. Your comfort and satisfaction are important to us, which is why we go the extra mile to ensure your peace of mind. To help you relax during your appointment, here is what you can expect during your first visit.

Kind and Welcoming Experience
From the moment that you walk into our office, you will feel welcomed by our helpful and friendly staff.  We will treat you like family as we get to know you to better understand your needs and your comfort level.
We take the time to talk with you to learn more about your oral health history while taking the time to answer your questions or concerns. We will create personalized solutions to help you reach and maintain your dental health goals. To help you understand your treatment, we will explain each option and step in detail.
Comprehensive Preventive Services
If you are visiting our office for a preventive appointment, we will take the time to carefully clean your teeth to remove harmful plaque and tartar accumulations. We will also discuss your oral hygiene habits and make suggestions for improvement. Afterward, we will perform a comprehensive examination to monitor your dental health.
In addition to a visual exam, diagnostic images are also taken to see the health of your mouth below what is visible on the surface. Not only will your dentist check your teeth and gums, but also your bite, temporomandibular joint, and oral cavities. With a full picture, we can help you improve your quality of life and oral health with a treatment plan that caters to your specific needs.
Orthodontic Consultation
In addition to general dentistry, we also provide braces in Ripon. During your orthodontic consultation, we will take a series of images, impressions, and x-rays to look at the alignment of your teeth and your bite while also performing a visual exam. Based on our findings, we will discuss your treatment options to help you make an educated decision in your treatment. We will take the time to answer any questions or concerns you may have about each option.
Relax and Feel at Ease
At Silver Creek Dentistry, your comfort and satisfaction are our top priority as we help you achieve optimal oral health. If you have any questions about your upcoming visit, please do not hesitate to call our office. A member of our team is more than happy to give the answers you need for a stress-free visit.
About Silver Creek Dentistry
Silver Creek Dentistry is a full-service dental office who caters to each patient's needs. We embrace the latest technologies to deliver a higher level of care. With our patients our top focus, we will provide you with the world-class services that you deserve. Contact our office today to schedule an appointment.