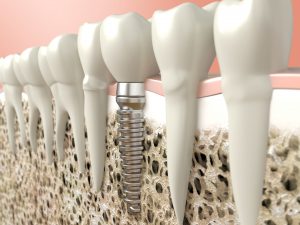 Finding a sturdy tooth replacement is important no matter how many pearly whites you have lost — but if you are missing an entire arch of teeth, you may have difficulty locating a prosthetic that fits properly. Fortunately, dental implants in Ripon offer superior stability and comfort in cases of total tooth loss. They are the only comprehensive tooth replacement option currently available, and many adults are eligible. Keep reading to find out more about how this option works and how it can help you regain full smile confidence.
Implant-Retained Dentures
Dentures are prosthetic teeth that are affixed into a base that looks like the gum tissue. Conventional dentures secured by natural suction have long been used as a solution for significant tooth loss, but can also slip or slide around and may even fall out when you're trying to eat your favorite meal. Implant-retained dentures offer a better option.
Dental implants are titanium posts that take the place of a missing tooth's root. When implanted directly beneath the gum line, the implant posts promote the growth of bone tissue and gradually fuse together with the jaw. In this way, multiple implants can create a sturdy foundation for a complete denture.
There are two main options for implant-retained dentures: traditional implants, which are placed and restored over the course of about a year. This option can support a fixed or removable complete prosthetic. Same-day implant-supported dentures are also possible with the All-on-4 method. This option uses 4 dental implants to support a complete, fixed prosthetic in the upper or lower jaw over the course of a single day.
If you are eligible for complete tooth replacement with dental implants, you and your dentist will discuss your options to determine whether conventional implants or All-on-4 dental implants are best for your smile during an initial consultation.
Benefits of Implant-Supported Dentures
Implant-supported dentures offer a number of advantages compared to traditional dentures. The most significant benefits include:
Implant-supported dentures look and feel more natural

An ideal fit prevents sores and blisters in the soft oral tissues

Sturdy dentures support a balanced, nutritious diet

Dental implants stabilize the jaw bone and promote better oral health

Implant-supported dentures last longer than traditional dentures, which usually require replacement after 5 to 7 years
If you are missing all of your teeth, don't give up hope on finding a secure tooth replacement option. Implant-supported dentures may offer the help you need! Schedule an appointment with your restorative dentist to discuss your options for regaining a complete smile ASAP.
Meet the Practice
The Silver Creek Dentistry team offers comprehensive general, restorative, and cosmetic dentistry services from the comfort of a state-of-the-art office. With multiple implant experts on staff, patients can find full-service dental implant dentistry services in one convenient location. To learn more about dental implants, schedule an appointment with their office by calling 920-748-7200.