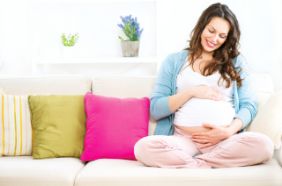 If you're pregnant – congratulations! It's a time of excitement and anticipation, as well as a fair bit of preparation. You're probably well aware of the importance of a healthy diet and lots of rest during pregnancy. But you might not know that your periodontal health (also called gum health) can affect the health of your baby as well. In fact, researchers have found that women with advanced gum disease are 7 times more likely to give birth prematurely and/or have low birth weight babies. Keep reading to learn how you can take great care of your gums during this special time and find out if you might benefit from periodontal therapy in Ripon. Being proactive about your gums is a fantastic way to improve your oral health and give your baby a great start at the same time!
How Does Your Gum Health Affect Your Baby?
There are 2 main categories of gum problems during pregnancy. The first is women who had active gum disease prior to becoming pregnant. Researchers have found that their babies are at the highest risk for health problems (including premature birth and low birth weight).
The second category is women who had healthy gums before getting pregnant but develop "pregnancy gingivitis" during pregnancy. This affects about 50% of women and occurs because of the massive hormonal changes that come with pregnancy.
Even if your brushing and flossing is good, your hormones can cause your gums to bleed easily and become red, swollen or tender. Many women simply view this is an irritating symptom without realizing that it can affect their baby. That's why dental care during pregnancy is so crucial.
How Can You Take Great Care of Your Gums?
The first step towards good oral health is getting regular dental care. Professional cleanings are crucial for removing plaque and tartar under the gumline that you can't remove at home, which is hugely beneficial for your gums. These visits are so important that some insurance companies will even cover an extra cleaning during pregnancy, so be sure to check your benefits.
You'll also have your gums evaluated during your checkup. If you have gum disease, your dentist or hygienist may recommend gum therapy in Ripon. These therapies are highly effective and might include a deep cleaning (also called scaling and root planing), the use of a soft tissue laser, or placing antibiotic gel under the gumline.
In addition to professional care, it's also important to maintain good hygiene habits at home, including:
Brush at least twice a day for two minutes. Electric toothbrushes are very helpful for many people!
Make flossing a priority and aim to floss at least once per day. If you find that bedtime isn't realistic for you, you can always floss after lunch or dinner each day.
Eat a healthy diet. A diet full of fruits and vegetables is great for your health, your baby's health, and your gum health!
About the Author
Dr. Kurt Walejko is a general, cosmetic and restorative dentist who knows that there's a powerful link between oral health and overall health. As a father of two, he enjoys providing great dental care to families to make sure that everyone is healthy and happy at every stage of life. If you have any other questions about gum health during pregnancy, he can be contacted via his website or at (920) 748-7200.