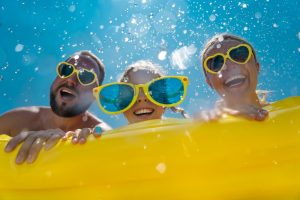 Did you know that you can get the most out of your summer vacation by boosting your confidence from improving your smile? If you're embarrassed by dental discoloration, damage, or having a gummy grin, then you can benefit from visiting your cosmetic dentist in Ripon for a consultation. Feeling confident instead of embarrassed by your smile can give you the extra encouragement you need to meet new people and spend extra time hanging out with friends and family to get the most out of your summer vacation. Read on to learn about three cosmetic treatments that can help you prepare for your trip. 
Porcelain Veneers Can Breathe New Life Into Your Smile
If your smile suffers due to a variety of cosmetic imperfections, such as chips, cracks, gaps, and severe discoloration, porcelain veneers are likely a great treatment option for you. This do-it-all service helps conceal different types of flaws, revealing a completed, aligned, and bright grin. They are customized, durable, thin porcelain shells that are made to fit over the visible surface of each individual tooth you'd like repaired. Your dentist in Ripon will prepare your natural teeth before permanently cementing them in place. With the proper maintenance and care, your veneers can last you for 15 to 20 summer vacations!
Break Apart Stubborn Dental Stains With Teeth Whitening
Countless people suffer from decreased self confidence due to dental staining and discoloration. This problem can be caused by a variety of factors, but some of the most common include:
Poor dental hygiene
Frequent consumption of stain-causing foods and drinks
Bad oral habits such as smoking
Taking certain medications
Over-the-counter products such as whitening strips, charcoal toothpastes, and even teeth whitening kits promise big results, but they usually don't deliver. Not to mention, some of the ingredients found in these products can cause damage to your tooth enamel. With professional teeth whitening, you can achieve fast results without having to put your oral health in jeopardy. That way, you can feel and look great on your vacation.
Make Your Smile More Proportionate With Gum Recontouring
When you look at your smile in the mirror, do you notice that it's over shadowed by your gums. Some people have a disproportionate amount of gums to teeth. This cosmetic flaw can make you less likely to bust out a smile, especially if you're fixated on what others will think. Gum recontouring is a fast and minimally invasive procedure that uses a soft tissue laser to quickly and accurately remove the perfect amount of additional oral tissue to expose more of your natural teeth.
These are only three of the several cosmetic treatments that your dentist in Ripon has to offer to help you get the most out of your summer vacation. If you'd like to learn more, kickstart the process by contacting your cosmetic dentist today to schedule a consultation.
About the Practice
At Silver Creek Dentistry, we offer the care and expertise of five skilled dentists. Each of our professionals has experience with different specialties within the dental field, including cosmetic treatments. That's how we're able to offer comprehensive care in addition to unique services, such as gum recontouring. For questions or to schedule a consultation to learn more about how we can improve your grin, visit our website or call 920-748-7200.