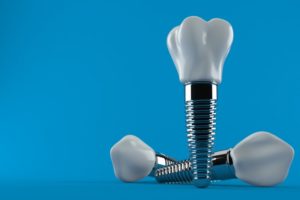 Dental implants attract the attention of so many patients because they offer a variety of unique benefits that help them stand out in a sea of different tooth replacement treatments. One of the most popular selling points for this modern treatment is the fact the once the prosthetics are placed, they can last for decades before needing to be restored again. If you're wondering "How long do dental implants last?" and want to get an in-depth look at what makes this modern procedure so successful, keep reading!
The High-Quality Components of Dental Implants
There are three primary components to your implant-retained restoration. These include a titanium implant post, a small metal connector piece called an abutment, and finally, a customized restoration. One of the factors that plays an important role in the lifespan of dental implants is the materials they're made out of. Titanium is a biocompatible metal that's able to fuse with your jawbone through a process called osseointegration. This allows it to form a thin oxide layer around it that keeps it from corroding while integrated with your jawbone, essentially acting like your natural tooth roots. In addition, high-quality porcelain and zirconia restorations are able to resist wear-and-tear like discoloration and continue looking and functioning perfectly for decades at a time.
Getting the Most Out of Your Implants
According to studies conducted over the last decade, dental implants have been shown to last 35 or more years with the proper maintenance. That's about seven times the lifespan of traditional restorations that aren't held in place with implant posts.
Even though your restorations can't get cavities, it's still crucial to take care of your dental implants and gums on a daily basis by continuing to brush and floss your teeth. Your gums are the foundation of your new smile, which makes them important to protect and keep healthy. If you skip at-home and professional routine oral hygiene practices, it could lead to an accumulation of harmful oral bacteria that are known to cause gum infections, ultimately resulting in implant failure.
Preventing Implant Failure
Implants boast an impressive 98 percent success rate. That's because every detail of this procedure, including the materials used for each component of the process and where the implants are going to be placed, is thoroughly analyzed during your initial consultation to minimize risk of complications. To keep your implants healthy and allow them to integrate with your jawbone, it's important to stop bad oral habits like smoking and drinking alcohol and be sure to regularly clean your teeth and gums. Your dentist will also provide you with additional tips to help increase your dental implant lifespan after your restorations have been placed.
With such as long-lasting solution, many people who are suffering from tooth loss are able to enjoy their implant-retained restorations for the rest of their lives, making them a worthwhile investment! To start your journey to a long-lasting and natural looking and feeling smile, schedule a consultation with your dentist today!
About the Author
Dr. Kurt Walejko has over years of experience under his belt and is passionate about helping his patients who are missing teeth regain a smile that makes them feel whole again. He has received ample additional training while he was first stationed in Scott Air Force Base, including an intensive, year-long Advanced Education in General Dentistry residency. For questions or to schedule a consultation for dental implants, visit Silver Creek Dentistry's website or call 920-748-7200.