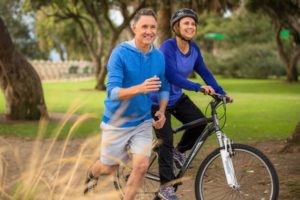 If you have dentures, you may have grown used to the slipping and sliding that can occur when speaking or eating. However, this embarrassment and irritation doesn't have to be something you live with. In fact, your dentist can combine dentures and dental implants to give you a lifelike, strong, and stable set of teeth. But what are implant-retained dentures in Ripon and what benefits do they have? Read on to learn the answers!
First, What Are Implant-Retained Dentures?
Implant-retained dentures combine dental implants and dentures, giving you the best of both worlds. Dental implants are tiny titanium posts that are surgically placed in the jaw to act as artificial tooth roots. Once an average of 4 dental implants are placed, they can stabilize your denture, anchoring it to your jaw. The result is a smile that looks, feels, and functions like your natural one.
The Amazing Benefits of Implant-Retained Dentures
So, what's the big deal? How can dental implants dramatically change your prosthetic smile? Implant-retained dentures come with a variety of advantages over traditional ones, including:
Comfort
When your dentures shift, they can easily irritate your gums, rubbing on your soft tissue and causing discomfort. However, by stabilizing your dentures with implants, your smile will stay in place. That means no sensitivity, irritation, or pain from moving dentures.
Diet
Have you been avoiding various foods like apples, popcorn, steak, and more because they are difficult to chew with your dentures? Dental implants give your smile the strength it needs to eat all your favorites! Of course, you'll enjoy a better quality of life, but you'll also get to consume a more nutritious diet, helping your overall health in the process.
Confidence
Dentures can be incredibly embarrassing when they slip out while speaking or eating. You may even hide your smile or avoid speaking in public due to your dentures. Thankfully, implant-retained dentures allow you to enjoy the beautiful, stable smile you deserve, giving you the confidence to eat, smile, and speak in any social or professional setting.
Bone Health
Losing your natural teeth affects more than just your appearance. Your tooth roots stimulate the jawbone to keep it healthy and strong. However, even losing a single tooth can decrease the stimulation your jawbone is getting, which could cause it to begin to deteriorate. If you've lost your entire smile, the jawbone can shrink, leaving you with an older, more narrow facial appearance. Acting as artificial tooth roots, dental implants in Ripon stimulate the jawbone to prevent it from deteriorating, allowing you to have a more youthful and full facial appearance.
Ready to enjoy the benefits of implant-retained dentures? Contact your dentist to see how you can upgrade your smile!
About the Practice
At Silver Creek Dentistry, we have a team of 6 dentists who combine their decades of experience and training to offer a wide range of high-quality treatment options, including implant-retained dentures. We proudly place and restore dental implants at our office, making quality dentistry convenient. To schedule an appointment, contact us through our website or by phone at (920) 748-7200.