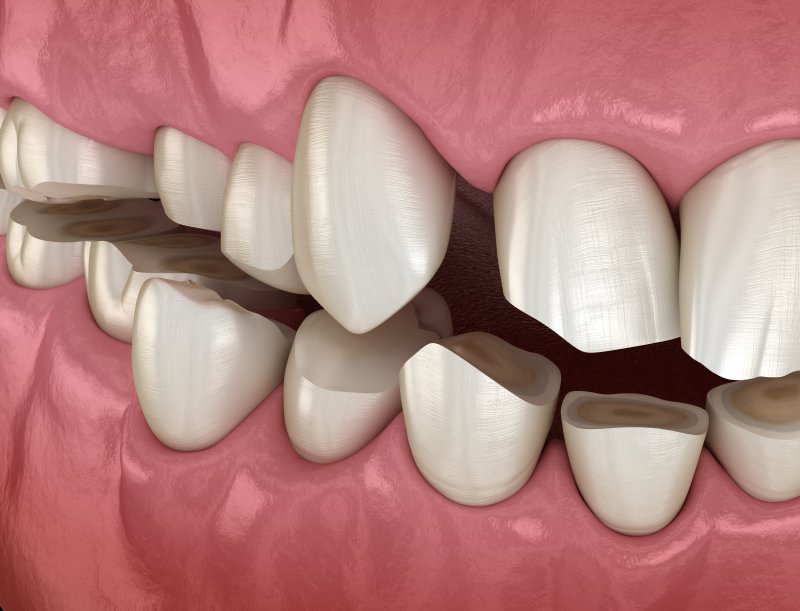 You got some surprising news at your last dental visit: some of your teeth are more worn down than they should be at your age. You're not sure how this happened, but since your teeth aren't broken or in pain, it can't be that big a deal, can it? Unfortunately, enamel wear in Ripon can have some very serious long-term consequences, and if you don't address it as soon as possible, you could end up needing to replace your teeth much sooner than you expected. The post below explores enamel wear, the issues it can cause, and how it can be prevented or mitigated.
What is Enamel Wear?
As you know, enamel is the outer layer of the tooth that prevents bacteria from attacking the soft tissues within. Enamel is the hardest substance in your body, including your bones. However, it has a serious flaw: since it doesn't have any living cells, it can't regrow once it has been lost. As such, enamel can be worn down over time as a result of various actions, such as habitually grinding or clenching your teeth as well as crunching ice and other hard substances. This usually happens very gradually, which is why you may not even realize it until your dentist points it out. However, you may notice that some of your teeth are more flattened than they were before.
Why is Enamel Wear a Problem?
Worn down enamel can cause a number of oral health issues. First of all, a thinner enamel layer tends to make the teeth more sensitive to sweets as well as hot and cold temperatures. This can make eating certain foods fairly painful. Second, the enamel will weaken as it wears down, becoming more susceptible to chips, cracks, and other types of damage that can compromise a tooth. And finally, thinner enamel is more susceptible to tooth decay, which can lead to a dental emergency in Ripon. In short, if signs of enamel wear are found, it's best to take whatever steps are necessary to prevent the damage from growing even worse.
What Can You Do to Stop Excessive Tooth Wear?
To stop the enamel from wearing down at an excessive rate, you can:
Wear a mouthguard so that your upper and lower teeth don't grind together at night
Stay away from acidic foods and drinks that can eat through the enamel
Avoid crunching ice or chewing other overly hard foods
Take note of harmful habits like biting fingernails and take whatever steps are needed to drop them
Practice good oral hygiene
Remember to continue visiting your dentist in Ripon every six months. If they find any signs that your teeth are becoming more worn down than they should, they can help you narrow down the cause of the problem and figure out what steps need to be taken to mitigate any further damage.
About the Practice
At Silver Creek Dentistry, our team of dentists can take care of almost all of your dental needs in just one location. We always put your comfort first, and we are committed to providing the highest quality care. We can provide mouthguards to protect your teeth from nighttime grinding as well as other potential solutions for enamel wear. To schedule an appointment, visit our website or call (920) 748-7200.