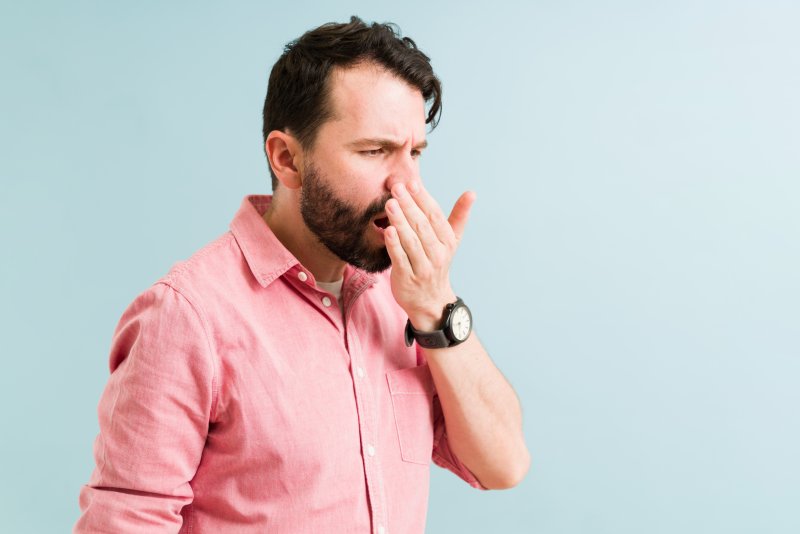 Are you aware bad breath (halitosis) can be a serious oral health problem? This doesn't mean if you eat garlic or onions that you need to be worried. Even the occasional morning breath is to be expected. However, if your brushing, flossing, and rinsing still do not alleviate the foul odor coming from your mouth, you likely have an issue that needs to be resolved by a professional. Here are five reasons bad breath can form and what you can do to prevent it.
Is That Me? 5 Reasons You Have Bad Breath
Bad breath can form as a result of many oral health issues. You may not realize it, but your gums, teeth, tongue, and unhealthy habits can all result in an unpleasant aroma emitting from your oral cavity. To identify the reason for your bad breath, it's important you see a trusted dental professional for help. Five common causes you might not have considered include:
A Dirty Tongue – Brushing and flossing your teeth as well as using mouthwash is essential, but are you forgetting to clean your tongue, too? Bacteria can build on the surface of your tongue, causing foul odors to form. Using a tongue scraper or a soft-bristled toothbrush to clean from the back to the front of your tongue can help remove harmful particles and keep your breath fresh.
Gum Disease – When bacteria and plaque form between the teeth and attack the soft oral tissues, the smell can become problematic. You may find it difficult if not impossible to remove, which is why your dentist will recommend periodontal therapy. Eliminating plaque and tartar buildup can help minimize further damage and alleviate foul odors.
Smoking – Although this isn't hard to believe, you may not realize how smoking and tobacco use can dry out your mouth. When your salivary glands are inhibited, your mouth cannot be flushed of any bad bacteria that will try to form inside your mouth. Quitting will not only improve your overall health, but it will allow your salivary glands to begin working again.
Dry Mouth: When there is a lack of saliva being produced inside the mouth, bacteria can accumulate. This is common while you are asleep if you breathe through your mouth, which can lead to "morning breath."
Medications: Depending on the medications you are taking for certain health conditions, you may find your breath is quite foul. Some oral medicines can cause bad breath by raising your risk for dry mouth. Others can directly impact the smell coming from your oral cavity because of how they break down within the body.
How to Avoid the Odor From the Start
If you want to reduce your risk for bad breath or avoid it altogether, your dentist can provide several helpful tips that will improve the state and smell of your oral cavity.
Brush your teeth twice a day (at least) for a full two minutes using a soft-bristled toothbrush and fluoride toothpaste
Floss at least once a day before going to bed
Rinse with an ADA-approved mouthwash that is specialized to combat bad breath
Use a tongue scraper or a soft-bristled toothbrush to clean your tongue
Keep your regular six-month dental checkups and cleanings
By adopting these as part of your normal routine, you can feel more confident the next time you meet up with a family member or friend.
About the Practice
At Silver Creek Dentistry, our team of dental experts wants to help you minimize your risk for bad breath. Halitosis is a common oral health problem that can easily be avoided with the help of practical tips and tricks. If you need help to address the foul odor coming from your oral cavity, visit our website or call (920) 748-7200.