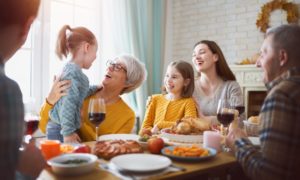 When you are missing teeth, dental implants can be a real game-changer for your grin. Before you know it, the holiday season will be on the horizon and with that comes considering how you can better yourself via New Year's resolutions. Why not be the early bird in that regard and talk to your dentist about how dental implants in Ripon could make a positive impact on your life? Read on to learn how they can give you so much to be thankful for during the holidays and year-round.
Be Confident About Your Smile
Dentures can slip out of place in your mouth when you talk and eat, while a dental bridge can lose its natural-looking appearance over time. On the other hand, since they are fused to your jawbone, dental implants provide great stability so that you can talk up a storm while trying that new restaurant with your friends, and they will retain their natural appearance longer.
Enjoy Your Favorite Foods in Comfort
At those major sit-down occasions like Thanksgiving and Christmas dinner, there are sure to be so many delicious dishes and you're going to want to try them all. With dental implants, you have the biting power to partake in any main course, side dish, or dessert.
Dentures restore about 30 percent of your natural chewing force, while implants boost you up to 75 percent or more! Never worry about causing a scene at the family meal because you shouldn't have tried to eat those barbecue ribs and ended up making an emergency visit to your dentist in Ripon.
Benefit from Improved Facial and Bone Features
Dental implants preserve natural tooth tissue by avoiding the need to cut down adjacent teeth for conventional bridgework. They will also preserve bone and significantly reduce bone resorption and deterioration that results in loss of jawbone height. Plus, implants help restore your jawbone structure because they reduce the load on the remaining oral structures and reduce bone resorption and deterioration that results in loss of jawbone height.
Stabilize the Teeth Near Your Implant
The gap from a missing tooth can cause adjacent teeth to shift towards it. This pulls your teeth out of position and can affect your bite, ability to chew, and appearance. When you get a dental implant to fill that space, the teeth on either side of it are supported to bring essential stability to your smile.
Invest in a Durable Solution
When you take good care of them, they have a longer lifespan than any other form of tooth replacement due to their strength and durability. While the ceiling on a dental bridge or denture is about seven years, dental implants can last decades and potentially the rest of your life.
Able to improve your quality of life in multiple ways, dental implants are an addition to your smile worth feeling thankful for. To learn more about the implant procedure and find out if you are a quality candidate for them, schedule a new patient exam today with an implant dentist in Ripon!
About the Practice
At Silver Creek Dentistry, we strive to offer unparalleled service as we provide a wide array of treatments using state-of-the-art technology. We have five dentists ready to work for smiles of all ages. Flexible financing is available via CareCredit, or you can ask about our Dental Savings Plan. If you want to learn more about dental implants in Ripon, the first step is to schedule a new patient exam on our website or call (920) 748-7200.