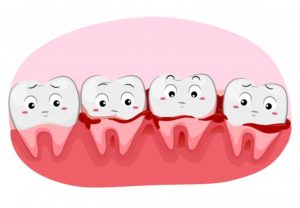 Inflamed, sensitive gums are just one of the many reasons gum disease can be inconvenient. Fortunately, preventing and treating it in the early stages starts with simply separating what's true and false about this serious oral health concern. Read on to learn five common gum disease myths in Ripon and why they're not true.
Myth #1: Gum Disease Is Rare
Despite popular belief, gum disease isn't rare. The Centers for Disease Control and Prevention recently shared that roughly 50 percent of adults over age 30 struggle with some form of it. That's why it's so important to be on the lookout for common symptoms like red, inflamed, and bleeding gums. If one or more of these warning signs of gum disease do surface, then schedule an appointment with your dentist right away.
Myth #2: I'll Lose My Teeth If I Get Gum Disease
It's true: if left untreated, gum disease can progress and result in tooth loss. That's not the case for every patient with gum disease though! When it's caught in the early stages, the implementation of a solid oral hygiene routine can help restore your healthy gums. In other words, best practices like eating a well-balanced diet, flossing daily, and visiting your dentist for a checkup and cleaning every six months will ensure you don't lose any of your teeth.
Myth #3: Bleeding Gums Are Normal
Not so! Bleeding gums are often a symptom of a much larger issue, like gum disease. So, don't ignore it. Instead, schedule an appointment with your dentist in Ripon right away. The sooner you do, the sooner they'll be able to pinpoint the root of the problem and put together a customized treatment plan.
Myth #4: Infected Gums Will Heal on Their Own
Patients often think that their dental problems will fade when given enough time. That's not true though. Restoring your healthy gums requires treatment from a skilled dentist. Putting off treatment will simply allow the root of the problem to progress, negatively impacting your oral health in the process.
Myth #5: There's Nothing I Can Do to Prevent Gum Disease
While genetics play a factor, gum disease is largely preventable. With this in mind, there is no time like the present to:
Brush for a full two minutes each morning and evening
Floss and rinse with mouthwash every day
Get a dental checkup and cleaning biannually
Quit unhealthy habits like smoking
Stick to mostly well-balanced, low-in-added-sugar meals
Now you are more informed about gum disease myths in Ripon. When you want to double-check if what you've heard about this common oral health concern is true, simply get in touch with your dental team and they'll be happy to answer any questions you might have!
About the Practice
At Silver Creek Dentistry, we strive to offer unparalleled service as we provide a wide array of treatments using state-of-the-art technology. We have five dentists ready to work for smiles of all ages. Flexible financing is available via CareCredit, or you can ask about our Dental Savings Plan. Our dentists are always ready to answer questions about gum disease or any dental health matter, because the more informed you are, the better you can protect your smile. Contact us at (920) 748-7200 or schedule an appointment on our website.