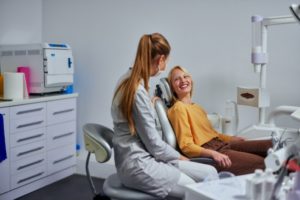 Many people are surprised to learn that they can receive dermal fillers from their dentists, but it is true. Dentists can provide more cosmetic procedures than most people realize due to their expertise. They are specialists in all things related to the mouth and often, the facial area. Dermal fillers are becoming a popular cosmetic choice for people seeking to enhance or improve the aesthetic of their faces. However, it may still be unknown territory for some. Read on as a cosmetic dentist in Ripon answers FAQs about this treatment so you can make an informed decision.
What Are the Benefits of Fillers?
As people age, they lose volume in key areas of the face. This contributes to folds, wrinkles, hollow temples, thinning lips, sunken eyes, and an older appearance. Fillers can be used to restore this volume loss, smooth out folds and wrinkles, and improve contours to achieve natural results without altering facial expression. Certain fillers can also be used to correct scars.
Are Dermal Fillers Safe?
Dermal fillers have been tested to be safe, but there are various risks that everyone should know in advance. Just because they are safe does not mean that every single person will react the same way.
What Are the Risks Associated with Dermal Fillers?
A person faces a few risks when receiving dermal fillers. These include bruising, pain, swelling, and itching of the facial area. Most of these side effects have been said to be normal, but it is still important to be aware of them.
Is There Any Downtime?
No! You can go right back to your normal routine. However, patients are advised they may have some bruising or swelling, so it is best not to schedule a filler appointment right before any important event.
How Long Do the Results Last?
The effects are long-lasting but not permanent. They last anywhere from six months to two years, depending on several factors including the patient's age, the area treated, the type of filler used, the quantity of filler used, and lifestyle.
Will Dermal Fillers Affect my Teeth?
Dentists like to be cautious about dermal fillers. If dental work is needed near where a dermal filler was placed, the area may be at risk. The dental work could cause that spot to get infected. It is best to have any necessary dental work done prior to the filler procedure.
Are There Special Aftercare Instructions?
It is best to avoid excessive touching of the area that was injected with a dermal filler. Hot compresses can be used to bring down swelling. Avoid blood thinners and expect there to be swelling and bruising. The swelling and bruising should go down within a few days, but if it does not, it is best to consult with the dentist or medical professional. It is also important to note that blood thinners should be avoided at all costs, as these pose a great risk to the entire body after dermal fillers are injected.
Which Filler Do I Need?
The choice of filler depends on the individual patient, their treatment goals, and their facial anatomy. It is recommended to book a consultation to discuss these things with your provider.
Dermal fillers can deliver instant, lasting results with a single treatment. If you want to create lift, add volume, and restore a youthful appearance to certain areas of your face, contact your cosmetic dentist in Ripon to get started!
About the Practice
At Silver Creek Dentistry, we strive to offer unparalleled service by providing a wide array of treatments using state-of-the-art technology. We have five dentists ready to work for smiles of all ages. Flexible financing is available via CareCredit, or you can ask about our Dental Savings Plan. Our team proudly offers dermal fillers and BOTOX. If you have further questions on dermal fillers, we look forward to discussing them during your initial consultation which you can schedule on our website or call (920) 748-7200.