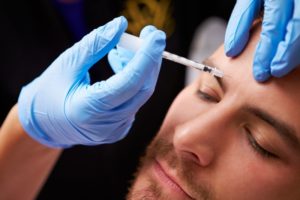 Are you on the fence about getting BOTOX from your dentist because you've never received it before? It's good to know what you're getting yourself into, both the good and the bad, so you have realistic expectations. While BOTOX can provide amazing, youthful results, some people may experience some temporary immediate effects from the injections as well. Read on to learn three short-term side effects of the treatment and how you can help them go away.
Bruising
Some patients, although not all, can develop bruising around the injection site after BOTOX. It's typically limited to the area that's being treated and doesn't spread, and it's often light in color, but it usually only lasts between two and three days. In rare cases, it can last up to seven. The best ways to prevent or minimize bruising are to avoid blood-thinning medications before your treatment, like Aspirin, and to keep your head elevated above your heart while you sleep.
Localized Pain
BOTOX is administered through small injections series that help the muscles relax and release tension, allowing them to become smoother, which is why this treatment is able to help people minimize fine lines and wrinkles. The injector used is very small, but for some patients, it can still cause some slight discomfort and localized pain. This side-effect will vary based on your tolerance, but in most cases, it disappears within moments after the injection is finished.
Swelling
The BOTOX itself isn't likely to cause dramatic swelling, but you may notice some mild inflammation near the injection site for up to 48 hours after your appointment. This isn't cause for alarm, it's often just your body naturally reacting to the treatment. In rare cases, swelling can be due to an allergic reaction, but it will be accompanied by other symptoms if that's the case, like hives. To alleviate short-term swelling after treatment, you can lightly apply a cold compress wrapped in a thin cloth to the inflamed area for 10 minutes on, 10 minutes off, for up to an hour at a time.
Is Getting BOTOX® Worth It?
It's safe to say that the short-term effects of BOTOX are a small price to pay for youthful results that can last for up to six months! In many cases, patients don't experience any side-effects to this treatment or are able to curb bruising, swelling, and localized pain immediately after their injections, making them small but manageable inconveniences at most. If you're looking for a non-invasive, fast-acting cosmetic treatment that can minimize fine lines and facial wrinkles, considering BOTOX is a must!
About the Practice
At Silver Creek Dentistry, we offer the expertise and skill of five cosmetic dentists who are passionate about helping their patients achieve their best-looking and healthiest smiles. They regularly complete continuing education to stay on top of the latest advancements in their field and offer a wide array of smile-beautifying services, from more extensive complete smile makeovers to quick and easy BOTOX injections. For questions or to schedule an appointment, visit our website or call 920-748-7200.