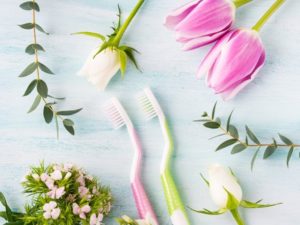 For many of us, the idea of spring cleaning is often focused on clearing out our homes and ensuring that our living space is free from clutter and comfortable to live in. But your house might not be the only thing that needs tidying up this season; when was the last time you went to see your dentist for routine preventive care? Even if you're usually diligent about brushing and flossing, it's still going to be in your best interest to visit your dentist to give your teeth a spring cleaning! Keep reading to learn more.
The Value of Professional Dental Care
It's always wise to practice decent oral hygiene at home, but even if you're good about staying on top of things, there's unparalleled value in seeking routine professional dental care. During these visits, the dental team will use special tools to polish away stains and remove tartar from the surface of your teeth, resulting in a vibrant sheen and greatly reducing the risk of decay. They will also scrape away the plaque that has built up in hard-to-reach spaces between your teeth.
Visiting your dentist for a teeth cleaning will also allow them to inspect your mouth for signs of potential problems. It's worth mentioning that they're an incredible resource for information concerning dental care, so it's an excellent opportunity to ask questions and receive answers if there's been something on your mind.
Updating Your Equipment & Routine at Home
When you aren't at the dentist, taking care of your teeth falls solely on you, which means that investing in the proper equipment and establishing a normal routine is crucial! Here are some tips to consider:
Update your means of brushing – Inspect your toothbrush for signs of fraying or discoloration; brushes with fresh, soft bristles are ideal for brushing as they help prevent enamel loss, so replace yours if you need to. Electric toothbrushes are also worth considering, as they've been proven to clean more effectively than their traditional counterparts.
Clean your toothbrush holder – The container that you store your brush in is exposed to all the same germs and bacteria as your other bathroom surfaces, so ensure that you're keeping it sanitized in order to protect your brush while it's not being used.
Check expiration dates – Just like how you'd check the expiration date on a gallon of milk before pouring yourself a glass, you should check the dates on dental care products too. Expired mouthwash or toothpaste can cause you more problems than they'll solve!
In short, you simply can't replicate what a dentist can do on your own, meaning that you should turn to them and allow them to help!
About the Practice
The team at Silver Creek Dentistry is honored to provide patients and families in the Ripon, WI area with an exceptional level of care! They offer a wide range of preventive, cosmetic, and restorative treatment options that are certain to help you maintain the brightest and healthiest smile imaginable. If you have any questions about the article or would like to set up an appointment, you can contact the practice online or over the phone for additional assistance: (920) 748-7200.