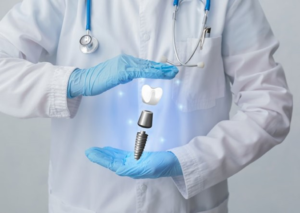 If you've heard of dental implants, you probably know that they're one of the several available options for replacing missing teeth—but did you know that they're arguably the best option? Due to their unique design and how they're placed, they're able to essentially restore the entire structure of missing teeth and impart several awesome benefits to a patient. This is why over 500,000 implants are placed annually; other solutions simply can't match what they can accomplish! Continue reading to learn more about how dental implants sit atop the throne of modern dentistry.
They Look, Feel, & Function Just Like Natural Teeth
Dental implants are designed specifically for you—meaning that once your implants have been placed and are fully healed, your smile will look, feel, and function exactly how it's supposed to! In fact, other people won't even be able to tell that you have implants unless you inform them yourself. And better yet, you'll encounter no difficulty when it comes to eating and speaking thanks to the custom design of the replacement teeth that sit on top of the implant posts.
They Don't Affect Your Other Natural Teeth
With other tooth replacement options, there exists a possibility of sustaining damage to any remaining natural teeth. For example, certain restorations rely on healthy adjacent teeth for support—but this is not the case with dental implants. After they've been placed into the jawbone and healed, dental implants offer unmatched support and stability, meaning that they don't just fill in the gaps left by missing teeth, but also pose no threat to your other teeth or oral structures.
They Effectively Prevent Jawbone Deterioration
Since they're placed directly into your jawbone, dental implants actually mimic the roots of your natural teeth and provide your jaw with the healthy and necessary amount of stimulation that it needs to help you retain your facial shape and full oral functionality. Believe it or not, having missing teeth can actually lead to facial collapse since your jawbone will begin to shrink; thankfully, dental implants mitigate this.
They're Easy to Maintain
Perhaps the most convenient aspect of dental implants is the little required maintenance necessary to keep them clean and intact. With other options, such as dentures, you'll be required to soak them and keep them extra clean. While you'll still want to maintain optimal oral hygiene with dental implants, the implants themselves require no specialized maintenance and it's very straightforward to continue caring for your smile. Of course, visiting your dentist regularly will also allow you to maintain them and ensure they continue serving you well.
As dentistry continues to utilize emerging techniques and advanced technologies, it's only reasonable to assume that dental implants will continue to evolve and serve our smiles well for the foreseeable future.
About the Practice
The team at Silver Creek Dentistry is honored to provide patients and families in the Ripon, WI area with an exceptional level of dental care! They offer a wide range of services including restorative options like dental implants to help you rebuild your smile and provide you with results you'll love. If you have any questions about the blog or you'd like to schedule a consultation, you can contact the practice online or by phone for further assistance: (920) 299-5549.