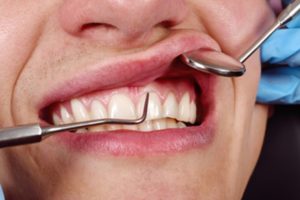 A healthy smile is a happy smile—but did you know that a healthy smile also means a happier body? Oral health is a crucial aspect of overall well-being, and one common issue that many people face is the development of periodontal pockets, which if left unchecked, can lead to serious issues that spell bad news for your general wellness. Here's a little more from your trusted dentist about this issue along with some ways you can effectively prevent and manage it.
What Are Periodontal Pockets?
Periodontal pockets are spaces or gaps that form between the teeth and gums as a result of gum disease, specifically periodontitis, which is an advanced stage of gingivitis. If you aren't diligent about brushing and flossing every day, plaque can build up on your teeth. This sticky biofilm coats the teeth and gums which causes inflammation, among other issues such as a heightened risk of cavities. Other symptoms of gum disease include inflamed, red, or bleeding gums, bad breath, and receding gum tissue among other concerns if left untreated.
If it's not removed, this plaque can harden into tartar, which becomes difficult to eliminate and quite detrimental to your oral health. As time goes on, the gums begin pulling away from the teeth, forming pockets—which serve as the perfect place for bacteria and more plaque and tartar to hide! Needless to say, it will only worsen without professional intervention; and while gum disease starts in the mouth, it has the potential to cause serious bodily issues like heightened blood pressure, diabetes, and heart disease.
How Can I Address Periodontal Pockets?
As with virtually all oral health issues, the first step towards addressing periodontal pockets is tackling your gum disease—which starts with visiting your dentist and hygienist on a regular basis. They have the skillset for diagnosing and addressing the issue, which can assist with the pockets and wellness of your gums, and by proxy, your entire body's well-being!
One way that gum disease can be treated is scaling and root planing, a deep cleaning treatment involving extensive plaque and tartar removal. Specially formulated antibiotics can also be used in certain instances. If the disease has caused deep pockets to form, a more extensive treatment option might be utilized, such as surgery.
Can Periodontal Pockets Be Prevented?
When it comes to gum disease, the best offense is a good defense—meaning it's preferable to practice excellent oral hygiene and safeguard your smile from it entirely. Here are some general tips to help with this:
Brush at least twice a day using a soft-bristled toothbrush to remove plaque and prevent its buildup.
Don't skip out on flossing; it's just as important as brushing, as it allows you to access and remove plaque from areas your toothbrush cannot reach.
Eat a balanced diet rich in vitamins and minerals, which supports overall immune function.
Be sure to drink plenty of water; it's the best beverage for your oral health by far.
Avoid tobacco products and quit smoking, as they significantly increase the risk of gum disease.
Manage stress; believe it or not, chronic stress can weaken the immune system, making it harder for your body to fight off infections such as gum disease.
Periodontal pockets can significantly impact your oral health and overall well-being; however, with proper oral hygiene practices, regular dental checkups, and timely intervention, it's possible to treat them or even prevent them altogether.
About the Practice
The talented team at Silver Creek Dentistry has proudly served patients and families in the Ripon, WI community for several years, and they look forward to helping you and your loved ones achieve healthier, brighter smiles! If you have any questions about the blog or you'd like to get in touch with their team to set up a visit, feel free to visit their website or give them a call at (920) 299-5549.