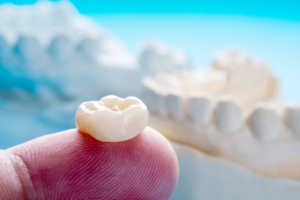 Your teeth are pretty darn strong—in fact, the enamel that covers them is technically the hardest substance in your whole body! That said, accidents can still happen, and sometimes your teeth might become injured due to damage, decay, or something else entirely. For these scenarios, dental crowns are often the go-to treatment, as they're capable of restoring a tooth in terms of look, feel, and functionality while giving it a second lease on life. But just how long are they capable of lasting? Continue reading to learn more about a few of the factors that impact the lifespan of dental crowns, along with a few dentist-approved tips to keep yours intact for the foreseeable future!
What Factors Influence the Lifespan of a Dental Crown?
Thanks to advancements in dental technology, dental crowns are now more durable and beautiful than ever before! On average, they can last anywhere from 3 to 15 years before needing to be replaced, though this depends on numerous factors. A few include:
·        Your oral habits – Chronically poor oral hygiene can lead to a slew of issues, including problems that affect your crown. Similarly, bad oral habits like smoking, bruxism, using your teeth as tools, and more can all take their toll on a dental crown's durability.
·        The location of the crown – Your molars are exposed to more pressure on a daily basis than your front teeth. As a result, dental crowns near the back of your mouth often wear down a little faster than ones placed near the front.
·        The materials used – Crowns can be made from a variety of materials: metal, porcelain, ceramic, or a combination of them. All options are reliable, but they have varying lifespans.
How Can I Ensure My Dental Crown Lasts?
There are several things you can do to ensure that your dental crown lasts for as long as possible. Fortunately, having a dental crown doesn't mean you need to change anything concerning your oral hygiene regimen—but it does mean that you need to stick to it closely. With that in mind, here are some tips that can help you protect your crown:
·        Practice good oral hygiene – Brushing twice a day and flossing daily will set your crown up for lasting success—even potentially for decades!
·        Avoid bad oral habits – Dental crowns are prone to chipping and cracking, so avoid biting into hard objects or using your teeth as tools. Even chewing on ice cubes or biting your nails can be problematic! Smoking and tobacco products are also ill-advised, as they're known to cause all sorts of dental issues.
·        Avoid grinding or clenching your jaw – Bruxism, also known as teeth grinding, can cause damage to your dental crown. If you find yourself clenching or grinding at night, you might need to talk to your dentist about a custom nightguard.
·        Watch what you eat – Try to limit your intake of sugary and acidic foods and drinks and opt for a healthy diet, as it will promote oral wellness.
·        Visit your dentist regularly – Your dentist is an expert on dental crowns and everything relating to them, meaning that seeing them often ensures your crown, as well as the rest of your mouth, is always in great shape.
About the Practice
The talented team at Silver Creek Dentistry has proudly served patients and families in the Ripon, WI community for several years. They're excited to offer a wide range of preventive, cosmetic, and restorative treatment options including dental crowns. If you have any questions about the blog or you'd like to set up an appointment for you or a loved one, feel free to visit the practice's website or give them a call for further assistance. Telephone: (920) 748-7200.