Metal Braces
The Trusted Solution
Traditional metal braces have been a trusted method for straightening teeth for decades for one simple reason: they provide fantastic, reliable results. Over a period of one to two years, traditional braces can successfully bring misaligned teeth into their proper position.
The benefits of metal braces include: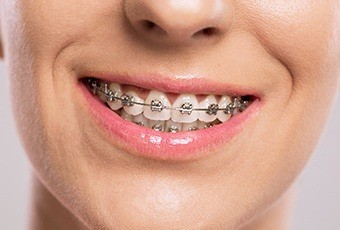 Reliable results
Most affordable option in orthodontics
Kids and teens love customizable brackets
No removable pieces to keep up with, which is especially beneficial for young patients
People of all ages are good candidates for traditional metal braces. Patients will undergo an initial checkup for cavities and gum disease before beginning treatment. If problems are detected, restorative care will be provided before or alongside the orthodontic treatment.
Life with Metal Braces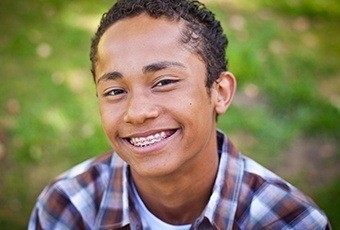 While it may take some time to get used to your new braces, most patients find that, after a while, living with metal braces is not so much different from "normal" life. Braces require a few extra maintenance steps, and there are some things you will need to give up eating for a while -- but if you follow our instructions closely, you will breeze through your treatment and get your straight teeth and beautiful smile in no time.
While brushing and flossing take a bit more maneuvering when you are wearing braces, good dental hygiene is as important as ever. Brush your teeth using a manual or electric toothbrush for two minutes, preferably after each meal. Brush above and below the brackets, then clean the brackets themselves. Don't forget to brush your tongue, too.
After you have brushed your teeth and braces, carefully floss by working the floss up through the wires. Dr. Hamman will provide special flossing tools to help you reach between each tooth. Flossing takes time with braces -- but it's an important step for keeping your teeth and gums healthy during your orthodontic treatment.
In addition to solid brushing and flossing, you will also need to watch what you eat while you are wearing braces. Certain food items put the metal hardware at risk of breaking. In general, you should avoid hard, sticky, or crunchy foods. Nuts, candies, popcorn, and caramels are some things to stay away from. Avoid biting directly into hard foods, too, like apples or corn on the cob.
Braces Are for Adults, Too
More adults are choosing to straighten their teeth than ever before, and that's partially thanks to clear braces like Invisalign. Whether you choose traditional braces or an alternative option, adult orthodontics can provide the results you have always wanted. Contact Silver Creek Dentistry to discuss your orthodontic treatment today!